BSSC 2026 Provisions Update Committee (PUC) and Issue Team (IT) Membership Application
The Building Seismic Safety Council (BSSC) kicks off the development of the 2026 NEHRP Recommended Seismic Provisions for New Buildings and Other Structures for the Federal Emergency Management Agency (FEMA). As with prior editions, FEMA and BSSC expect this to be a collaborative effort of the NEHRP agencies and private sector construction and design industries. The 2026 NEHRP Provisions will be based on the ASCE/SEI 7-22 Standard and the general development process is illustrated below.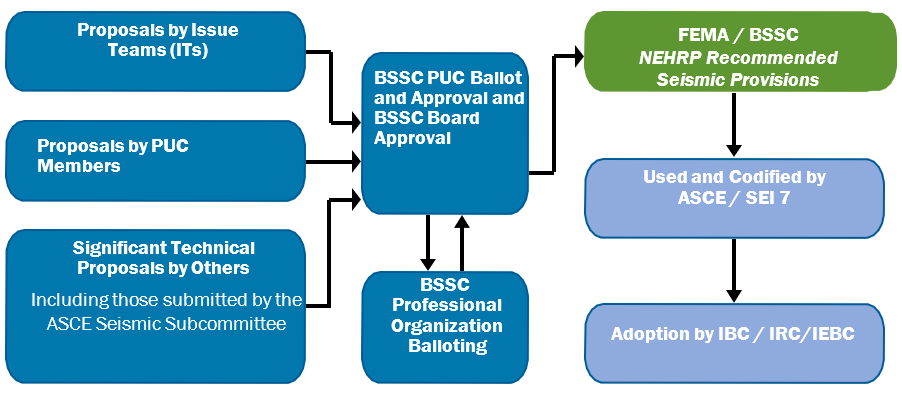 The BSSC would like to solicit passionate and dedicated subject matter experts to join its committees.
PUC Voting Members: The PUC will be composed of approximately 20 to 25 qualified technical experts representing the breadth of seismic design disciplines. The PUC will be responsible to identify, develop, evaluate and approve technical proposals of seismic code change and is the primary body for developing the 2026 NEHRP Provisions. The PUC Voting Members will be selected by the BSSC Selection Committee based on expertise need and qualifications. Travel for participating PUC activities will be supported by the BSSC.
IT Voting Members: Issue Teams will be established by the PUC to examine specific topics in need of attention that can be addressed successfully (i.e., develop code change proposals for Part 1 of the NEHRP Provisions or Resource Papers for Part 3 of the NEHRP Provisions) during the 2026 update cycle. Each Issue Team will be composed of a chair, approximately four to eight voting members from professionals possessing the needed expertise. Travel for participating IT activities will be supported by the BSSC.
PUC Corresponding Members: PUC corresponding members will receive correspondence from the PUC, may attend PUC meetings and participate at the discretion of the PUC Chair, but will not participate in PUC ballots and will not be financially supported by the BSSC.
IT Corresponding Members: IT corresponding members will have full access to and participate in IT development of proposals except that they will not involve in IT voting or be financially supported by the BSSC. Comments and opinions submitted by IT corresponding members will be considered and responses provided.
See the recent FEMA release on Recommended Future Issues and Research Needs: Identified During the Development of the 2020 NEHRP Recommended Seismic Provisions for New Buildings and Other Structures, developed by the 2020 PUC.
Please submit your application by December 7th, 2021.