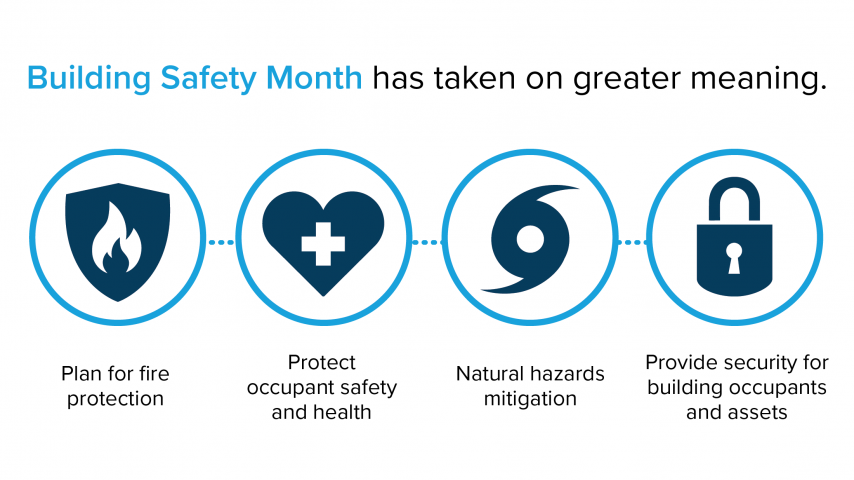 Building Safety Month: Keeping the built environment safe, during this critical time
May is Building Safety Month.
In this coronavirus world, building safety has taken on greater meaning as the nation's leaders figure out how to keep citizens safe, while reopening the parts of the economy to business again.
The International Code Council is readying for its 40th annual Building Safety Month, which includes a host of virtual resources to promote building safety in our communities.
This year's theme is "Safer Buildings, Safer Communities, Safer World." It highlights the importance of building codes and regularly updated codes to ensure the safety and resilience of the built environment.
"Safety in the built environment is an essential component of maintaining public health, making Building Safety Month more relevant now than ever," ICC says.
Available tools and resources
The code council has broken down the month of May into specific sub-themes. They include disaster preparedness, water safety, resiliency and sustainability, and training the next generation.
To address safety on a broad scale, ICC is offering a variety of online resources to help promote building safety within the community.
These include a letter to the editor that can be used and sent to a local newspaper on behalf of a company or department, and the code council's Safety Toolkit with brochures and worksheets on several topics, including alarm safety, permitting, electricity and appliances, and yard/pool tips.
Parents also are invited to educate children on building safety with free, downloadable materials from the Kids Corner.
Launching the building industry COVID-19 hub
Building safety remains our top priority.
NIBS recently developed a resource for those looking for recent developments, financial assistance information, webinars and events, continuing education, and other impacts of the coronavirus on the building sector.
The Building Industry COVID-19 Resource Hub lives on the Whole Building Design Guide site, and it regularly is updated as new information becomes available. It is personally curated by our team.
WBDG is our comprehensive, web-based portal to a range of federal- and private-sector building-related guidance criteria and technology. It links information across professional disciplines to encourage integrated thinking and "whole building" performance.
Mitigation investment will help keep our communities safe
With the Atlantic Hurricane Season right around the corner, starting June 1, now's the time to start making preparations to keep homes and buildings safe.
NIBS just released the Natural Hazards Mitigation Saves 2019 Report — the most comprehensive benefit-cost analysis of natural hazard mitigation, from adopting up-to-date building codes and exceeding codes to the upgrade of utility and transportation infrastructure.
New to this year's report is the extensive coverage – more than 100 pages – addressing the strengthening of existing buildings to prepare for hazards like floods, high winds, fires, and earthquakes. This was funded by the U.S. Department of Housing and Urban Development.
When it comes to reducing the impact of natural disasters, mitigation improves safety, prevents property loss, and keeps disruption to a minimum.
Want to learn more? Let's be social! We're @bldgsciences on Twitter, or you can find us on Facebook.